| | |
| --- | --- |
| The wagon wheel, with a spoke cut off: | Showing the sanded end grain: |
| | |
A spoke, raw on the left, cut and sanded on the right:

A Spoke Oak handle in progress: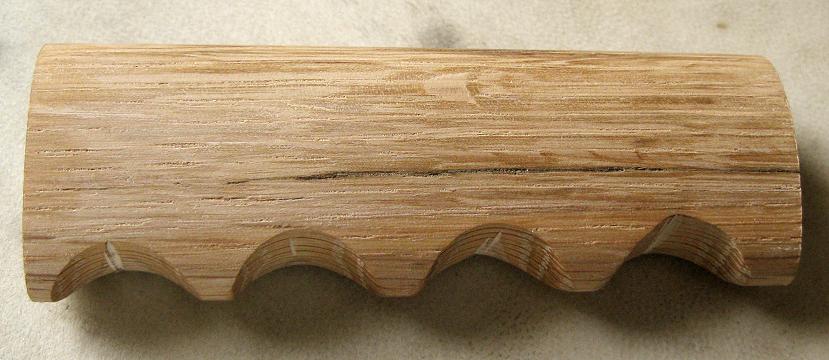 The finished handle. Lightly stained, waxed, and oiled:

This is a new item, first time offered. I have a couple of old wagon wheels. I decided to cut into them, since the wood looked like Oak. Sure enough, although they are well weathered, the wood inside is some very nice Oak, solid and stable. I have no idea how old these are, but they are OLD. If you have an interest in the Old West, here is a chance to own a piece of history, to perhaps make a very unique knife, as a gift, or what have you. This wood is very smooth and silky when finished, and feels gorgeous to the touch. Priced at $20/raw spoke. If you cut it carefully, you may be able to get two handles out of a spoke. Fully air-dried, well cured and stable, ready to use. Limited stock on hand.