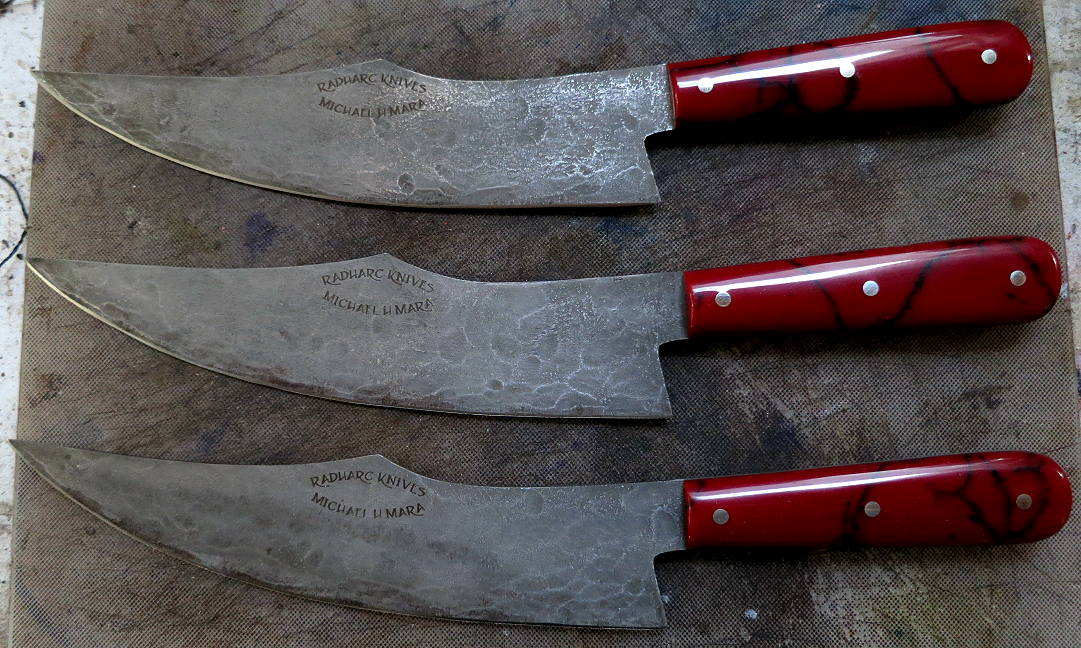 The Jasper Scimitars @ 2017 Michael H. Mara
These graceful, sturdy, general purpose Chef's knives have 6-3/4" blades of 1/16"440C, a swelled spine for rigidity with upswept tip, forged to shape with an as-forged finish, hardened to HRC58, sharp as a razor. Full tang construction for strength with nickel silver pins and Jasper scales. The knives are 11" overall length. $927 list price - factory seconds (see below), available for $599 for all three
440C is a high carbon, high chromium, premium cutlery steel, so the finish on this knife will stay as is, and won't tarnish nor rust like a simple alloy steel such as 1080. The as-forged finish, besides giving the blade an 'ancient' look, also greatly helps prevent food sticking to the blade by reducing the surface tension. Makes a great slicer, carver, or steak knife, it simply floats in the hand.
| | |
| --- | --- |
| To purchase these knives, click on the link to the right. You don't need a PayPal account, you can use any major credit or debit card, and PayPal will process the transaction securely, for your safety, and even calculate tax (CO only) and shipping charges. It only takes a couple minutes and PayPal does not charge the buyer. Shipping is $20 within the Continental USA. Insurance is included with every shipment, to simplify things and assure a worry-free transaction. | |
When I made these knives, apparently I didn't drill the scales properly, and they developed small hairline cracks around the pins. This doesn't affect the knives' beauty or performance, can't be felt, and is barely visible to the naked eye, but they aren't right, so I'm offering the set of three for $599 (list is $927). With the industrial adhesive I use, the scales are very firmly attached and will stay put, however, my normal Lifetime Warranty doesn't apply. If you have any problems with the scales in the future, let me know and we can work something out.